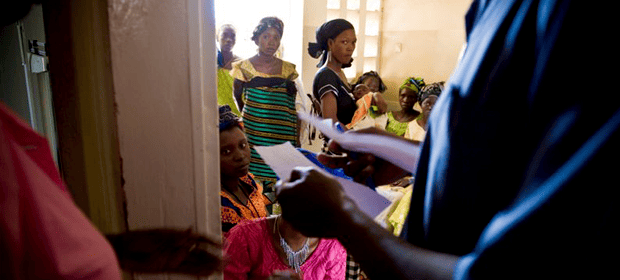 This post originally appeared on the IntraHealth VITAL blog. 
In Senegal, over a third of postpartum women who want to delay or avoid additional pregnancy do not use a modern method of contraception. This is despite the fact that most Senegalese women know about family planning and have access to services.
To reach these women, the Senegal Ministry of Health and Social Action, with support from IntraHealth International, launched an integrated services pilot program. The idea was simple: since 70% of children are fully vaccinated, and many mothers at immunization sessions want family planning services, why not offer family planning during routine immunization services?
We joined the team at IntraHealth using our behavioral science expertise to uncover situational behavioral factors that may prevent this from being successful. Together, we unpacked the decisions and actions of postpartum women at the immunization clinics to understand how women decide to use contraception (or not), and then follow through on this intention.
By observing Senegalese health clinics and through discussions with the providers and clients, we uncovered five behavioral insights to keep in mind when designing effective integrated health services:
1. Help clients come prepared.
The first step to making sure clients are aware of integrated services is to include information about them in outreach activities in the community. This is necessary particularly when additional services cost money and require a longer stay at the health facility (as is the case with family planning services in Senegal).
Clients should be notified beforehand of available services and expected costs so they can plan ahead and budget the time and money required to successfully follow through on their intention while visiting the health facility.
2. Prompt clients with clear, direct questions.
Many of the women we spoke with understood the benefits of, and expressed interest in, using contraceptives. Unfortunately, few of the women had time or the cognitive bandwidth to think concretely about starting a contraceptive method on the day of their child's immunization.
In the clinic, fussy children and neighborhood gossip surrounds women who are primarily focused on the task at hand—immunization. In such a hectic environment, everyone suffers from limited attention. For these women, family planning may not be top of mind. Prompting clients with a direct question—"Would you like to start using a contraceptive method today?"—makes this topic salient, and allows clients to act on it.
Otherwise, the opportunity may slip away unnoticed and unconsidered among the other tasks at hand.
3. Make services hassle-free.
Research has shown that even small hassles require effort to overcome, leading people to put off taking action, or not take it at all.
In Senegal, we noticed women were sometimes required to find the midwife responsible for family planning services in a separate building at their clinic. This seemingly inconsequential hassle prevented many women from using family planning, simply because they were unsure of where to find the service provider.
Eliminating unnecessary small hassles (i.e., any additional steps or wait time) can have a big impact on increasing uptake of integrated services.
4. Strengthen referral systems to help clients plan ahead.
Integrated services in Senegal are primarily designed for same-day service uptake. Unfortunately, many clients aren't ready to take up family planning same-day—they first needed to consult with their husbands or collect the requisite money. Thus, even well-designed integrated service programs need good referral systems.
Behavioral research has shown that simple verbal referrals can be strengthened by providing clients with physical reminders or prompting them to make a plan of action. Committing to an exact day and time for their return allows clients to both block out a convenient time and increases the likelihood they will actually make it happen.
5. Support health workers with appropriate training and materials.
It can be easy to forget that integrated services put additional burdens on already busy health workers. Beyond providing education on the importance of integrated services, effective training should provide clear and actionable processes that allow providers to effectively manage their client flow. Additionally, standardized materials can lessen the burden on providers to prepare their own, freeing up their time and energy to conduct seamless, successful integration services.
At ideas42, we believe that a deep understanding of human behavior will help us improve millions of lives. With more than 60 active projects in 20+ countries around the world, we create innovative solutions in health, economic mobility, education, consumer finance, energy efficiency, criminal justice, and international development.
IntraHealth's work in Senegal is funded by the US Agency for International Development, the Bill & Melinda Gates Foundation, Merck for Mothers, and the William and Flora Hewlett Foundation.