Creating more equitable justice to reduce mass incarceration
Our goal is to prevent 500,000 missed court dates, and their resulting warrants and jail time, over the next five years.
Today, people all over the country will miss an appointment: it happens to everyone. Missing an appointment is an accepted, forgivable part of life; unless, of course, you miss a court date. Missing court, even for low-level charges like traffic violations or open alcohol containers, can lead to fines, warrants, jail, and other significant consequences. In short, missed court dates can disrupt jobs and housing, harm well-being, and "mark" individuals for the rest of their lives.
This problem is so large that more people are in jail for missing court than any other reason in areas across the United States. And warrants disproportionately harm people of color: Black individuals are three to four times more likely to get arrested and jailed.
Our proven solution is simple yet transformational: reimagine and reform the communications people receive about their court dates using behavioral science.
Our work is already preventing tens of thousands of missed court dates. By helping people better understand, remember, and ultimately show up to court using principles from behavioral science and procedural justice, we've seen a 36% reduction in missed court dates. Our solution creates the greatest benefit for those most impacted by the system: communities with low wealth and people of color.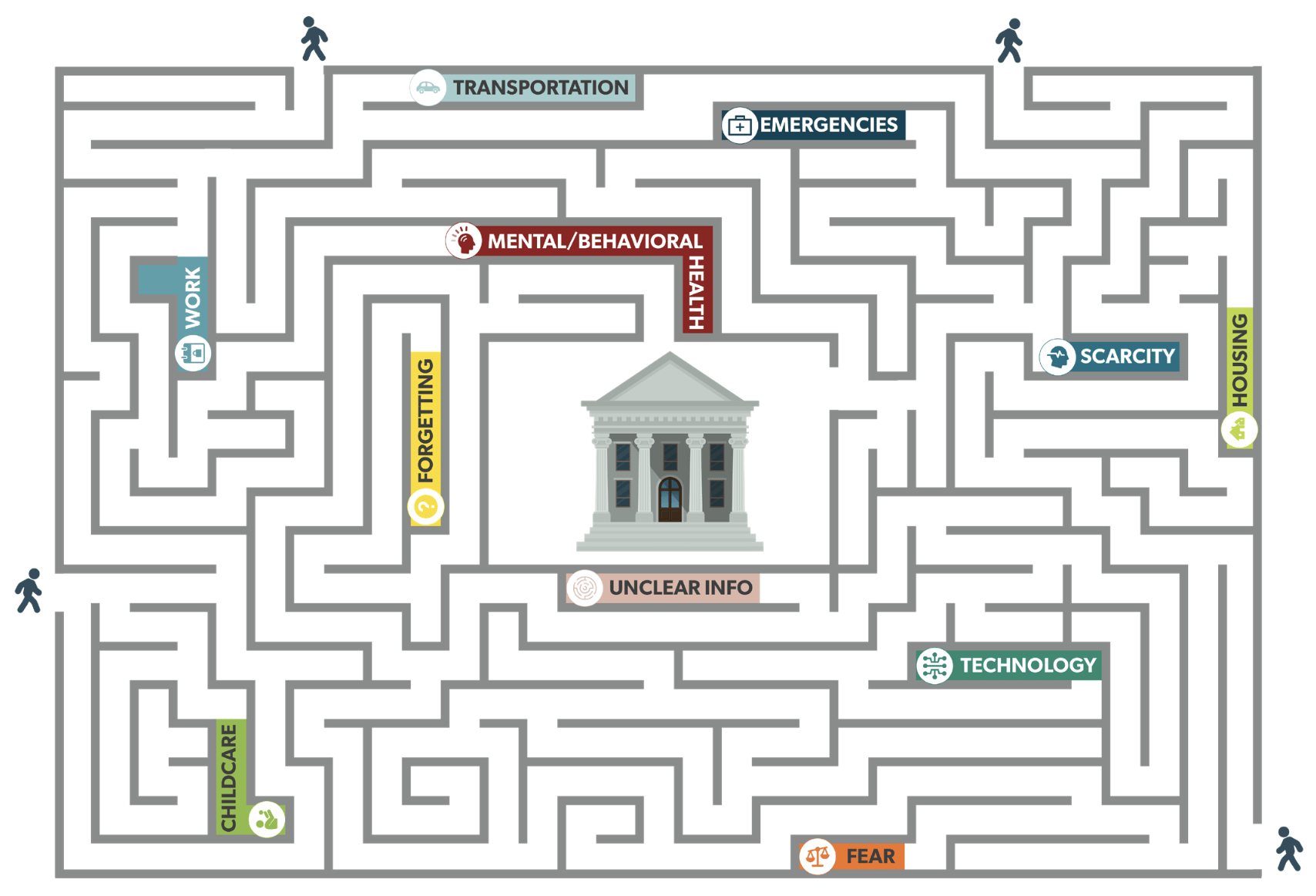 Common Barriers to Court Appearances
We are scaling this solution because a child having a parent in jail or a worker losing their job simply because of a missed court date is unjustifiable—it's unwarranted.
Partnering with us
(Un)warranted, an initiative of ideas42's Safety & Justice team, is a hub of expertise that creates positive change—bringing our proven experience to reduce nonappearance and its harmful consequences. We do so by reforming court date communications and catalyzing evidence-based policy.
Our work is actively informed both by people impacted by the system and organizations serving local communities. It is also not possible without the financial support of individuals and organizations who deeply believe in the ways (Un)warranted is striving for change. To create more equitable justice, we work together with advocates, community and justice organizations, funders, government (court systems, district attorneys and public defenders, law enforcement, among others), and researchers, including:
Abdul Latif Jameel Poverty Action Lab (J-PAL)
Advancing Pretrial Policy and Research (APPR)
American Civil Liberties Union
Americans for Prosperity
Angela House
Arnold Ventures
Californians for Safety and Justice
City of Dallas
City of New York
Civil Rights Corps
Covenant House Texas
Financial Justice Project
Harris County, TX
Healthcare for the Homeless
Individual Donors
MacArthur Foundation
Microsoft Justice Reform Initiative
Montgomery County, AL
Next Level Peer Group
Restoring Justice
Sacramento County, CA
San Francisco Traffic Law Clinic
SEARCH Homeless Services
Stand Together Trust
State of California
State of Ohio
Southern Poverty Law Center
Tahirih Justice Center
Texas Jail Project
Texas Organizing Project
The Beacon Center
The Bail Project
The Bronx Defenders
The Pew Charitable Trusts
The Harris Center
Tulare County, CA
University of Chicago Crime Lab
Urban Institute
Voices Of Community Activists & Leaders (VOCAL-NY)
We know that jurisdictions and donors across the country can create more equitable justice by simply helping people show up to court. Join us by emailing unwarranted@ideas42.org.
Publications
In the news