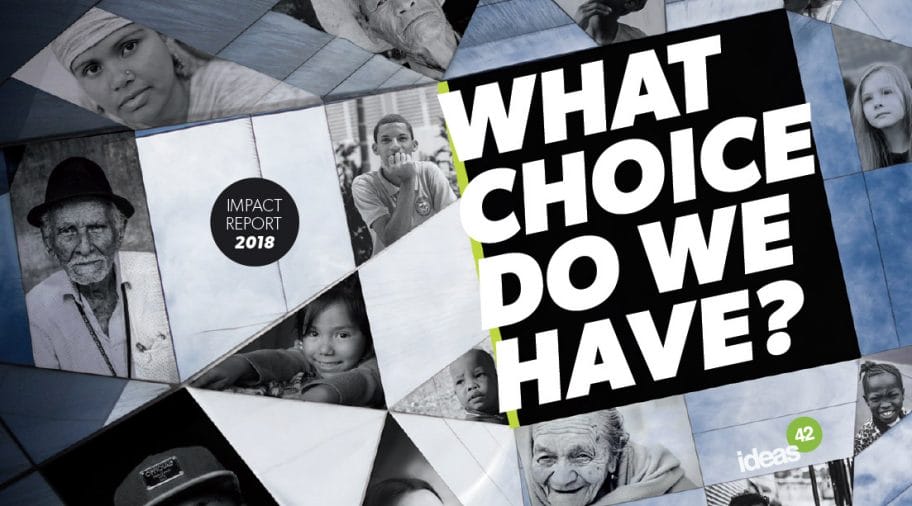 Ten years ago, ideas42 started in a small office at Harvard University. Since then, we have partnered with foundations, non-profits, government agencies, and socially-minded companies to work on more than 100 projects in over 35 countries, using behavioral science to improve millions of lives around the world.
Today we released our first-ever Impact Report, taking stock of how a decade of behavioral interventions across finance, justice, environment, education, health, and poverty have positively affected so many lives. We feature snapshots of 40 of our many projects from our first 10 years, many of which are ongoing collaborations. We've also revealed just how many experiments we have conducted on ourselves, among other metrics demonstrating our commitment to doing everything playfully and through a behavioral lens. Highlights include:
Helping more Mexican citizens save for a secure retirement: To combat a high elderly poverty rate and encourage voluntary pension contributions, 20 million Mexicans now receive ideas42-designed account statements.
Keeping people out of jail in New York: Redesigning the summons citation form for low-level violations and sending text message reminders reduced failure-to-appear rates by 36%. This also reduces the number of warrants issued, as failing to appear in court automatically triggers an arrest warrant.
Encouraging water conservation in Costa Rica: Two interventions—adding colored stickers focused on social comparison to utility bills and goal-setting postcards—each reduced water consumption by up to 5.6%.
Helping more students in San Francisco stay the course in college: A social norms based video showed to low-income and underrepresented freshmen increased persistence to sophomore year from 83% to 91%.
Reframing HIV risks for South African teens: A computer game helped South African teenagers better assess their risks of contracting HIV, correcting dangerous misperceptions that had previously led to troublingly high rates of infection among teen girls.
Increasing access to healthy nutrition in California: We've made more than 40 actionable recommendations to improve access to WIC (Supplemental Nutrition Program for Women, Infants and Children), and we're now working with WIC programs in California design and test some of them.
These highlights represent just a small slice of what we've been able to achieve using low-cost, easy-to-implement solutions across the areas we work in. And we're just getting started. We're looking toward the future with enthusiasm, where we have our sights set even higher. In the coming years, ideas42 will continue to optimize our existing programs by partnering with organizations and institutions and helping them discover the power of behavioral design. We're taking important steps to scale innovative solutions, from launching an innovation lab and venture studio to sharpening the focus of our new policy lab. We also empower problem-solvers across diverse sectors with innovative strategies using executive seminars and multi-day master classes. Building on what we have learned in our first decade, we will push the envelope in all of these efforts in our ultimate goal of making the use of behavioral science a ubiquitous tool for tackling some of the world's toughest problems.
"Our work with ideas42 has changed the way we approach voluntary savings in our pension system. By deploying more effective communications, innovative incentives, and timely reminders, we've seen a significant increase in voluntary savings—with enormous potential ahead." – Carlos Ramírez Fuentes, President, CONSAR, Mexico City
In the last decade, behavioral science has gone from promising new approach for solving problems to a mainstream and essential tool for real social change. Behavioral interventions have proven time and again not only to measurably improve outcomes, but are often cheaper than traditional approaches. The evidence is clear: behavioral science for good can fuel social impact.
We're invigorated by what lies ahead and excited to move beyond developing a proof of concept as we continue experimenting and rigorously testing innovative designs, focusing even more on creating a world designed for real people, from the ground up.