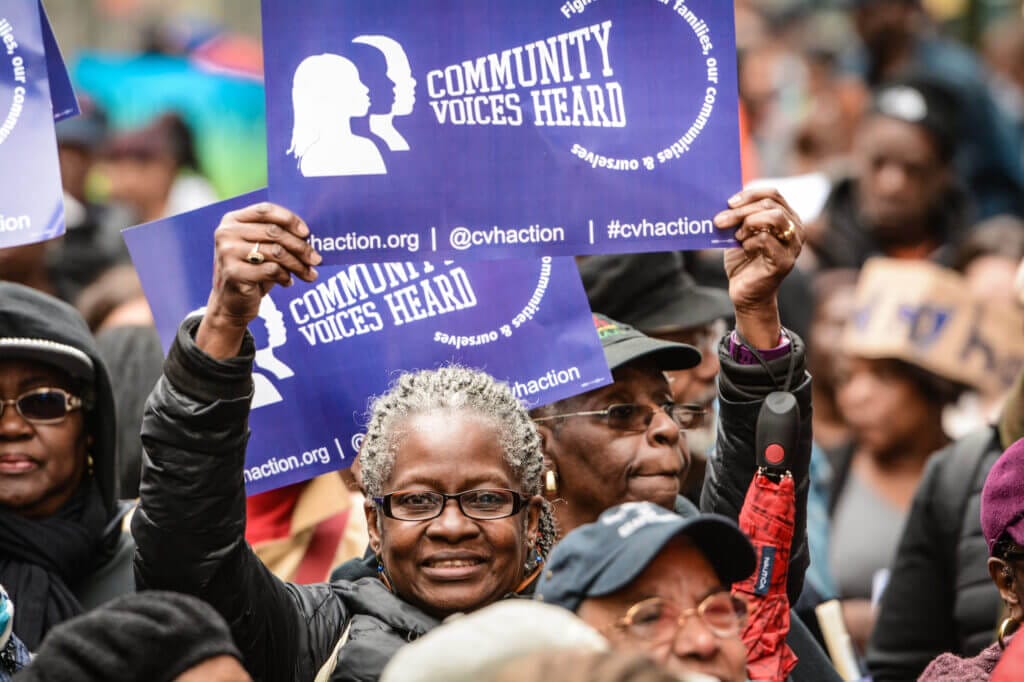 A broad goal of American democracy is to have a government that reflects, in composition and action, the will of a broad, diverse public. This ideal demands widespread and persistent public participation in civic discourse and action. Such engagement is critical to reducing the likelihood that the loudest, most extreme voices will be overrepresented in the civic arena.
Many people care about public policy issues, who represents them in government, conditions in their communities, and the well-being of their neighbors. Nevertheless, community organizers and activists often find it difficult to mobilize their constituents—even those they know support their goals—to participate in civic programs, advocacy campaigns, and voting. ideas42 has delved deeply into the behavioral factors affecting voter turnout in the United States and identified key barriers to participation, particularly in local elections.
The ideas42 NYC Behavioral Design Center (BDC) has drawn on this and other behavioral science research to help non-profit organizations in New York City increase multiple forms of civic engagement among their clients and constituents, from participatory budgeting to advocacy with policy makers, as well as voting. The BDC was established to help staff of New York City non-profit organizations identify and ameliorate behavioral barriers that impede effective service delivery and civic engagement efforts. Most grassroots advocacy and civic participation campaigns underscore the importance of the issues at stake, and often their target audiences agree. Yet if organizers fail to address these common barriers, even constituents who share their concerns may not move from concern to intention and from intention to action.
Organizations promoting civic participation have requested the BDC's help in increasing the number of people who take a desired action—from contacting a public official to attending a community meeting, from voting to volunteering. In our work with a number of these organizations, we have found that key barriers to engagement include:
Skepticism that their individual action will make a difference
Inaccurate or incomplete mental models of what's involved in civic participation
Perceived complexity of the process or the issues addressed
Limited time and attention
We helped staff in the organizations profiled below apply behaviorally informed strategies to encourage their constituents to take action. Key strategies included:
Simplifying and streamlining communication
Correcting inaccurate or incomplete mental models
Highlighting benefits and impact
Sparking and sustaining volunteer involvement in participatory budgeting
Participatory budgeting is a democratic process in which community members decide how to spend a portion of a public budget. For over a decade in New York City, many city council members have dedicated a portion of their discretionary district funds to be allocated through participatory budgeting initiatives, allowing their constituents to select from an array of proposed uses for those funds.
While a popular idea among residents, it doesn't always attract sufficient participation from volunteers available to serve in an intensive, ongoing way as budget delegates who review and develop proposals for participatory budgeting funding. In 2019, as New York City was preparing to create a citywide participatory budgeting process, the BDC partnered with the Participatory Budgeting Project to better understand what motivates volunteers to serve, and the behavioral barriers that can discourage involvement and lead delegates to drop out.
Barriers identified through our observations and interviews included: ambiguity and false mental models about participatory budgeting and aspects of the delegate role and process; hassles involved in participating; and disappointment and frustration when individuals' preferred projects were not selected for the ballot or chosen by voters. To mitigate these barriers, we provided communication templates and strategies for improving outreach and understanding, including:
Reducing hassles—such as holding meetings in easily accessible locations and online; disseminating meeting notes to keep people informed when they can't attend.
Correcting inaccurate mindsets about participatory budgeting by showcasing community improvements from previous participatory budgeting allocations; clarifying volunteer responsibilities, and highlighting benefits to serving as a delegate even if your favored project doesn't win (e.g., learning more about your community; familiarizing yourself with government officials and procedures; enhancing your resume; socializing with neighbors and making new friends) as well as other ways that unselected projects can be funded.
Outcomes: At the request of staff at the Participatory Budgeting Project and City Council, the BDC briefed Council members and staff on its findings and recommendations. In addition, the Participatory Budgeting Project circulated the BDC's insights and recommendations to local affiliates and followers around the country.
Inspiring grassroots advocacy
The Citizens' Committee for Children of New York (CCC) is a nonpartisan child advocacy organization that works to advance policies and programs that benefit New York children and families. As other forms of advocacy were curtailed by the pandemic, CCC relied more heavily on its E-Action Network. Unfortunately, at the same time, CCC noticed diminishing participation in its "Take Action" online letter-writing campaigns.
In 2021, the BDC partnered with CCC to uncover the behavioral barriers to participation in the Network's outreach to state and city policy makers. Among the obstacles we heard about from CCC members:
Discouraging mental models—if people lack evidence for the impact of advocacy, they may be less likely to engage with CCC: "I don't think they [letters] hurt, but I do not believe they help … It feels like I just keep writing letters and nothing changes."
Email overload and limited attention: Members receive many emails from CCC and each one contains a lot of information.
To mitigate these barriers, the BDC created a revised email template (see image below) that streamlines information, makes campaign actions and deadlines salient, and highlights the impact that outreach to policy makers can have. We also provided general recommendations for similar changes in other CCC emails to constituents.
Outcome: CCC staff reported an increase in open rates for Take Action emails; and the open rates for all emails increased by 40% (from 15% in 2021 to 25% in 2022).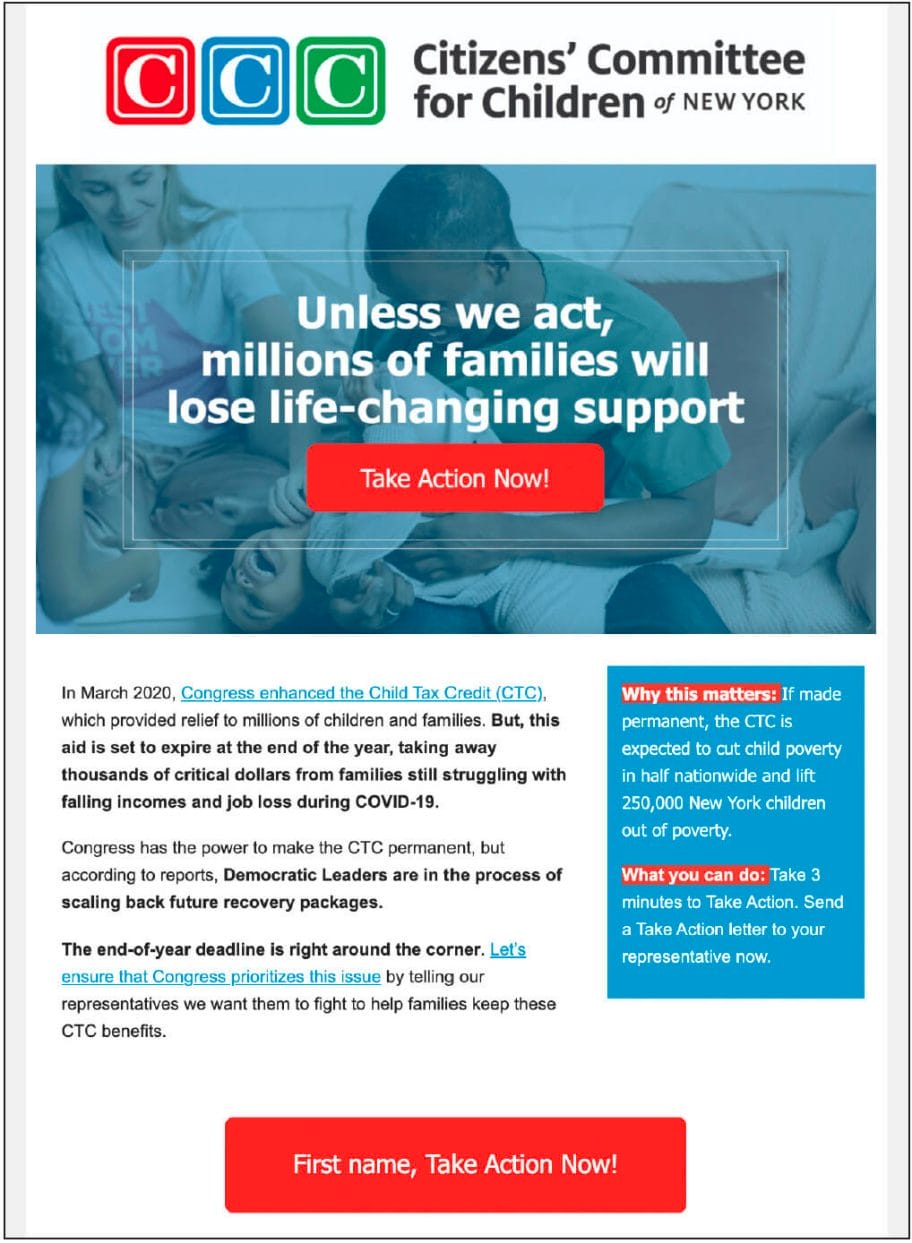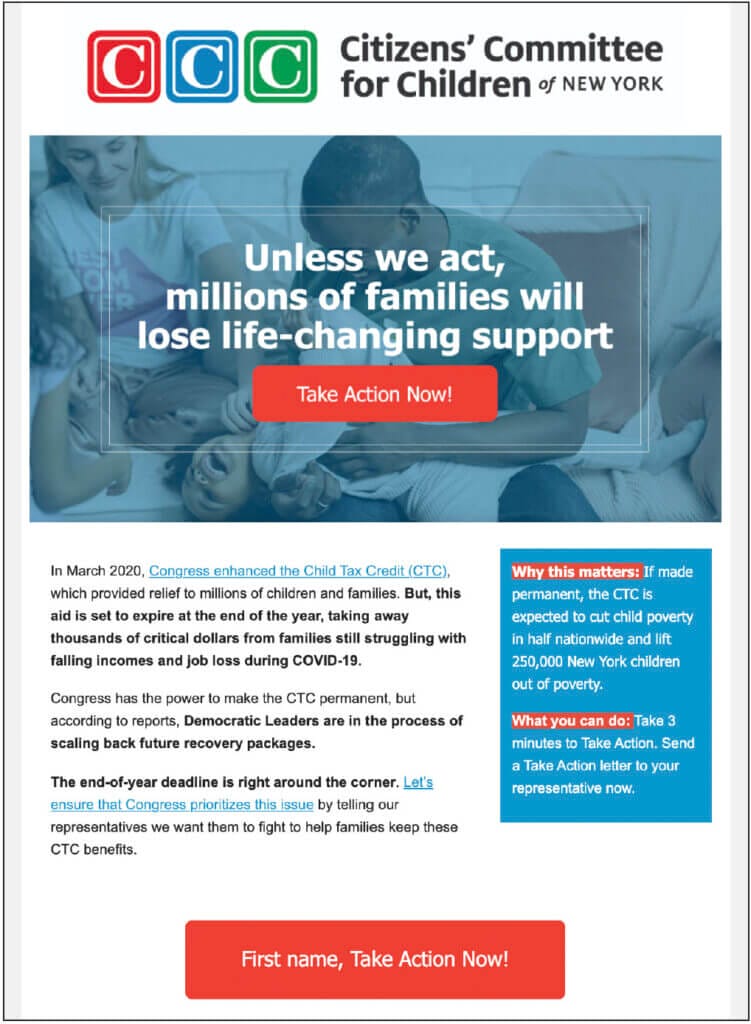 Engaging community members in co-creating a civic education initiative
Last year, Women Creating Change (WCC) was preparing to launch a Design Team to shape its Civic Matters workshops. Reflecting WCC's vision that all women have the power to be changemakers, the program aimed to co-create opportunities for women to gain the knowledge and skills they need to participate in civic processes and advocate on the issues that matter to them. The Design team was to develop community-led workshop curricula and an inclusive space for women to learn, share, and build collective power.
WCC staff came to a BDC Office Hour for guidance in creating outreach materials to recruit Design Team members and, later, to showcase the Civic Matters workshops. During the Office Hour, we discussed how to improve the working group "job description," communications, and sign-up survey forms, based on WCC's goals for the group and expectations of group members. We encouraged WCC staff to:
Shorten all communications.
Highlight the benefits of serving as a Design Team member.
Specify the time commitment.
Simplify requirements for signing up, and shorten the survey—by considering what information is essential at this stage and what can be gathered later.
Outcome: Based on this advice, WCC staff reported that they "transformed all of the materials" about the working group. Their promotional flyer and other communications successfully incorporated many behaviorally informed best practices, including: highlighting benefits to the individual and shared community values; clear, concise presentation of essential information about eligibility; participant role and responsibilities; and next steps. The initial outreach succeeded in attracting "great group members," and WCC will continue using the materials to recruit future members.
* * *
The next step is for more organizations to put the above insights and recommendations into practice, adapting them to address their particular contexts and challenges. Please reach out to the BDC (laura@ideas42.org) or sign up for an Office Hour for help enhancing civic participation using strategies grounded in research about human behavior. Together, we can promote activism and advocacy critical to strengthening democratic processes and maintaining a thriving democracy that truly reflects the voices of those living in it.