The ways in which participants experience public benefit programs like The Special Supplemental Nutrition Program for Women, Infants, and Children (WIC), often overlooked, is more relevant now than ever. Due to the COVID-19 pandemic, the United States is facing historic numbers of individuals who are out of work. Many find themselves in the position of needing public benefits programs such as WIC to make ends meet for the first time. With a rapid rise in eligibility for WIC, providing a good participant experience is crucial to ensure families are able to fully utilize benefits when they need them the most, for as long as they are eligible.
We know from earlier work that many participants don't utilize the ample benefits available to them for as long as they are eligible—often leaving the program before their child's fifth birthday, the traditional cutoff date for WIC. For new participants, appointment satisfaction has been found to be one of the most important factors in ongoing participation or drop off. Uncertainty during appointments—including the amount of time these appointments take, the number of steps, and what is required of participants—can deter participants from the program and cause them to drop out early.
Other previous research tells us that while WIC agencies are often interested in improving the participant experience, they operate with significant resource constraints—all the more true during the COVID-19 pandemic. Still, even in a resource-scarce environment, there are simple innovations that WIC agencies can adopt to improve their participants' satisfaction.
Before the pandemic, in partnership with Texas WIC and the Robert Wood Johnson Foundation, we designed a printed Roadmap to be shared at the start of a participant's appointment that walked them through the steps of their appointment, allowed participants to check off the steps as they completed them, and provided a space for staff to write down participants' arrival time so they were clear on how much time they had waited.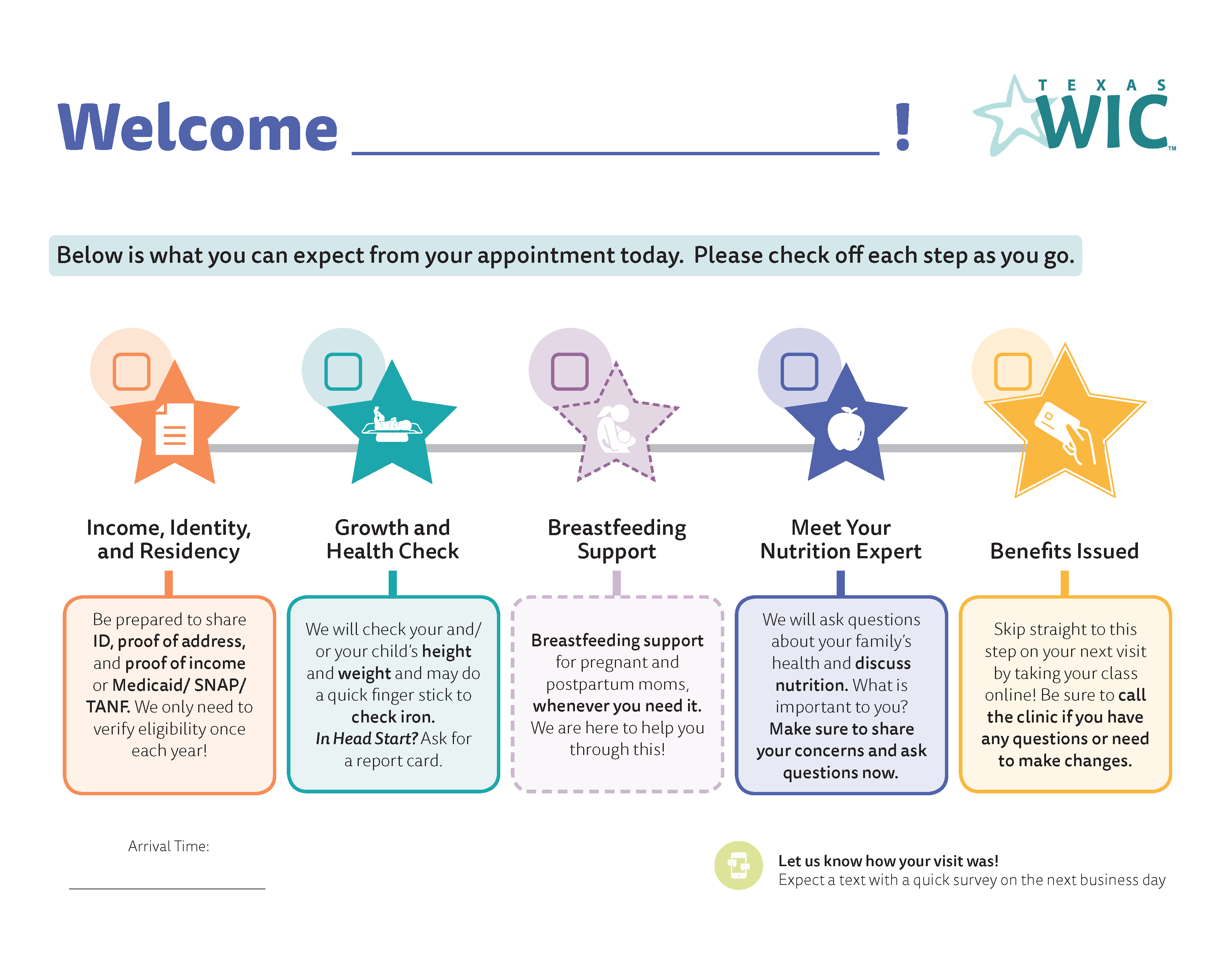 When we evaluated the Roadmap, we found that although the sample size was small, there was a 14-percentage point increase in participant satisfaction. More participants knew what to expect at their appointments, were satisfied with how the appointment process was explained, and were ultimately more satisfied with the visit and their experience overall.
The COVID-19 crisis has inadvertently created an opportunity for program designers to make innovative changes to service provision and delivery in the face of public health and safety constraints. For example, state WIC agencies can take our Roadmap design and the lessons learned from our work and adapt it to improve the participant experience in an automated way to account for physical distancing measures. Instead of handing participants a piece of paper when they enter the clinic, clinics should consider providing participants with information about their upcoming appointment digitally, using text messages, email, a WIC smartphone app or other messaging options. This could include a reminder to attend the appointment, what to expect during the appointment, and any necessary paperwork to prepare ahead of their appointment. As with our in-person design, an automated adaptation could also include a second message upon check-in for the appointment that indicates a participant is 'in line' for their appointment and notes their check-in time.
Benefits program administrators have begun embracing innovation in recent years. Given the influx of new participants due to the current crisis, the flexibilities around administration that many WIC programs currently have, the important benefits WIC provides to families, and the need for quick adaptation to the public health and safety requirements of our COVID-19 reality, now is the opportune time for governments to take WIC participant satisfaction and customer service into account when designing changes to program administration.
Although WIC staff are juggling even more demands on their already scarce time than usual, behavioral insights like our work with Texas WIC offer a promising low-resource solution that could greatly improve the satisfaction of participants with easy, small tweaks. Increasing participant satisfaction will help new participants access all the benefits they're eligible for. During a time of unprecedented of economic instability and uncertainty for millions, these benefits represent crucial health and nutritional supports that can make a real difference in the lives of so many, and should be as easy to access as possible.
For more information about our economic justice work and collaborations with WIC, contact us at allison@ideas42.org.