HIGHLIGHTS

The model Ability-to-Pay Application and Court Order include:

behavioral design to make it easier for people to communicate complex financial information to courts.
the Fines and Fees Justice Center's policy guidance on how courts should determine one's ATP.
formatting for easy and quick adaptation by any court.
The Challenge
Every year, fines and fees devastate the lives of millions of Americans. Across the country, courts impose fines as a punishment for minor traffic and municipal code violations, misdemeanors, and felonies. Courts then tax people—and disproportionately, people of color—with fees, surcharges, and other costs used to fund the legal system and other government services.
Those who cannot immediately pay may face additional fees, driver's license suspensions, bars to license renewals, loss of voting rights, arrest, and jail. Stuck in a cycle of punishment and poverty, people can lose their jobs, their homes, and even their children.
Our Approach
Ability-to-pay (ATP) assessments take a proactive approach by requiring courts to determine a person's ability to pay before imposing any fines and fees. Ability-to-pay refers to the current capability of a person to pay court-ordered fines and fees without economic hardship to themselves or their families and must include a presumption that some people will not have the ability to pay at all.
In 2020, the Fines and Fees Justice Center (FFJC) published First Steps Toward More Equitable Fines and Fees Practices, which offers model policy guidance on ATP assessments. To encourage engagement with the ATP process and follow-through for maximum impact, ideas42 designed an ATP Application that is free of hassles and legalese, transparent in explaining the goal of the application, and easy for applicants to complete and for the court to review.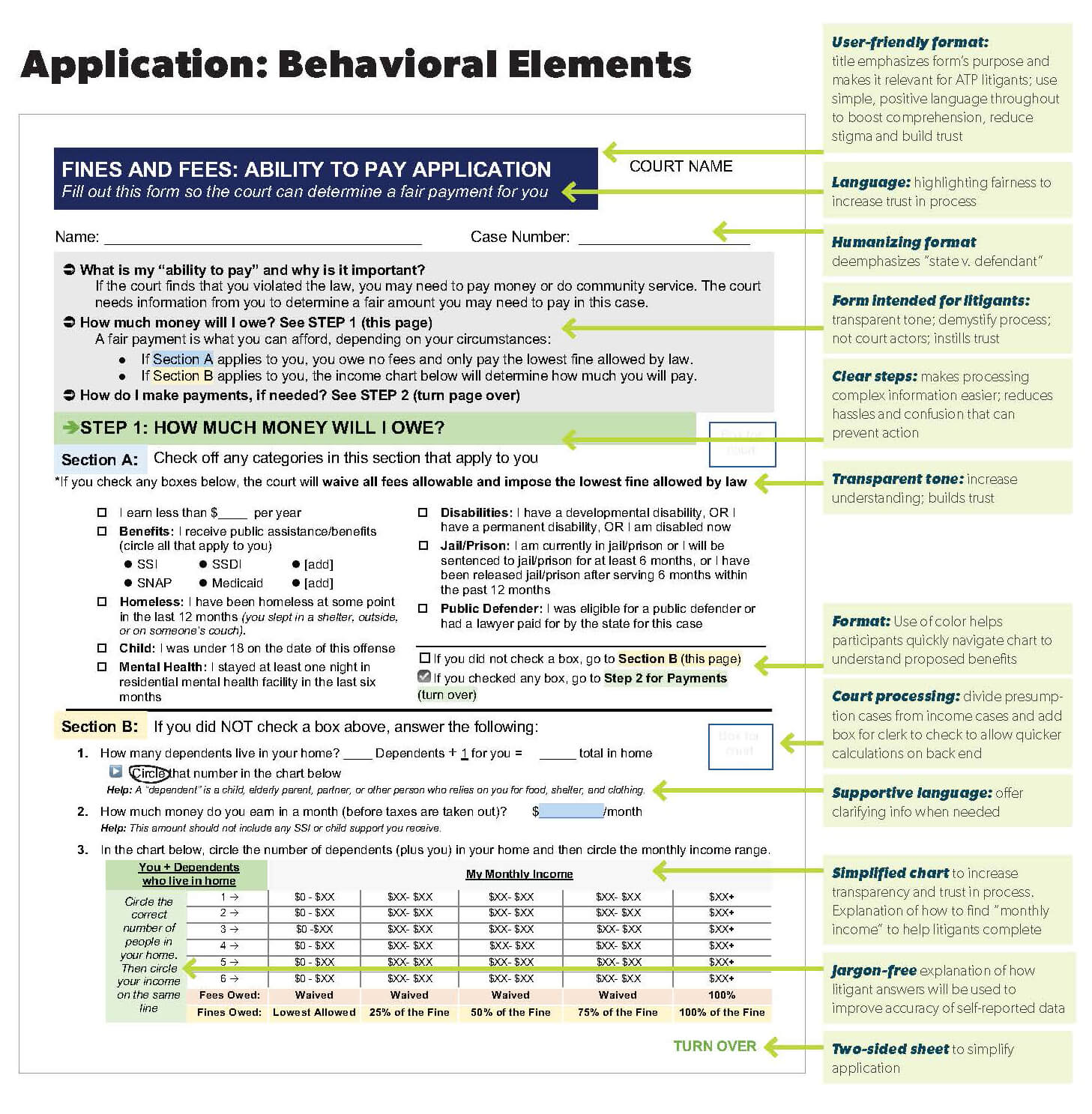 ideas42 also designed a model Court Order with an FAQ section to assist people in identifying and following the steps needed to comply with the order.
For more on these tools, view the project brief.
Takeaway
FFJC and ideas42 aim to provide ATP tools that increase equity, as well as design elements to encourage easy use and processing for both applicants and the courts. If any courts are interested in knowing more about ATP assessments, processes, and tools, please reach out to FFJC at info@ffjc.us to learn more. Also, if any courts are interested in behaviorally designed court forms generally, or how to adapt these forms specifically, please contact ideas42 at safetyjustice@ideas42.org.