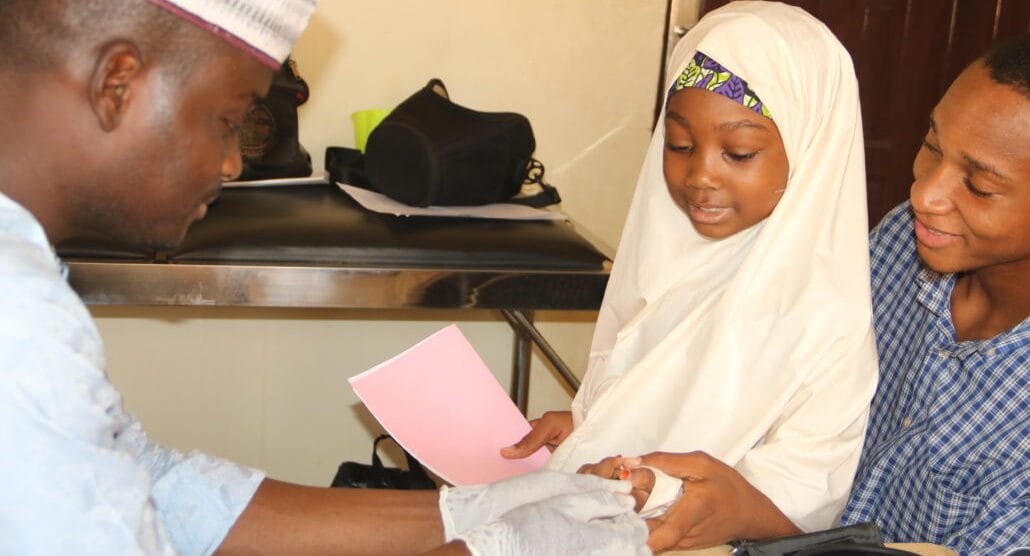 Credit: Breakthrough ACTION
HIGHLIGHTS

When health care providers don't follow the malaria testing and treatment protocol, clients don't always get the treatment they need. In particular, some clients who don't have malaria receive malaria treatment, medicines are wasted, and other diseases go undetected and untreated.
Under the USAID-funded Breakthrough ACTION project, we worked to improve compliance with the malaria testing and treatment protocol in Nigeria by rearranging client flows so that providers have access to the right information at the right moments.
Our efforts corrected misperceptions about diagnostic tests, offering clear, actionable information and feedback to make following case management protocol easier.
The Challenge
National malaria case management guidelines in Nigeria state that health care providers should conduct malaria parasite tests for every client with a fever, and provide malaria treatment only to those who test positive for malaria. This is meant to prevent the wastage of malaria medicines and help providers to detect and treat other illnesses. However, even providers who understand the guidelines don't always adhere to them. This results in wasted supplies and missed opportunities to detect and treat other illnesses.
Our Approach
Through behavioral diagnosis research in public health facilities in Nigeria, we found that factors like high client loads discourage providers from requesting time-consuming malaria tests for every fever case, while the knowledge that malaria is widespread can lead providers to question the reliability of negative test results. Providers may also be pressured by clients to provide unnecessary treatments and lack other sources of feedback or accountability for their treatment decisions, making it hard for them to always base treatments on clients' test results.
Working closely with 19 stakeholder institutions, including non-government partners and government representatives from the national, state, and local levels, we developed solutions to make it easier—psychologically and practically—for providers to follow guidelines. Our solutions:
Streamlined and re-ordered the hassle-filled testing processes.

Ensured that a client's test results were available to providers the moment treatment decisions are first made.

Created mechanisms for feedback and problem-solving to help providers be more mindful of case management challenges, and to find ways around them.
Read more about these solutions here. 
Results
Over three months, the solutions were piloted in 12 health facilities, including hospitals and primary health centers in the states of Akwa Ibom, Kebbi, and Nasarawa. Facilities in every state converged towards 100% adherence with the protocol over the course of the pilot, as was desired. Provider responses to a post-pilot knowledge and attitude test also demonstrated improvements in knowledge and trust in malaria test kits compared to pre-pilot tests. 
While these trends do not offer conclusive evidence of impact, the improvement in knowledge, attitudes, and behavior suggests that the solutions had their intended effect in improving case management practices. They were also well received and appreciated by providers in the pilot facilities. The solutions are now being scaled by partners in four other states.
Takeaway
When providers deviate from the protocols they're tasked to follow, it's common to assume that more training and information about what to do are needed. While training may often be helpful, it doesn't alone address all of the reasons providers act as they do. 
By understanding challenges to case management from the perspective of a provider, we uncovered new solutions that support providers to offer client-centered care while also increasing efficiency in clinics and reducing wasted medicines.
Interested in our work applying behavioral science to global health? Email gh@ideas42.org or tweet at @ideas42 to join the conversation.
Partners