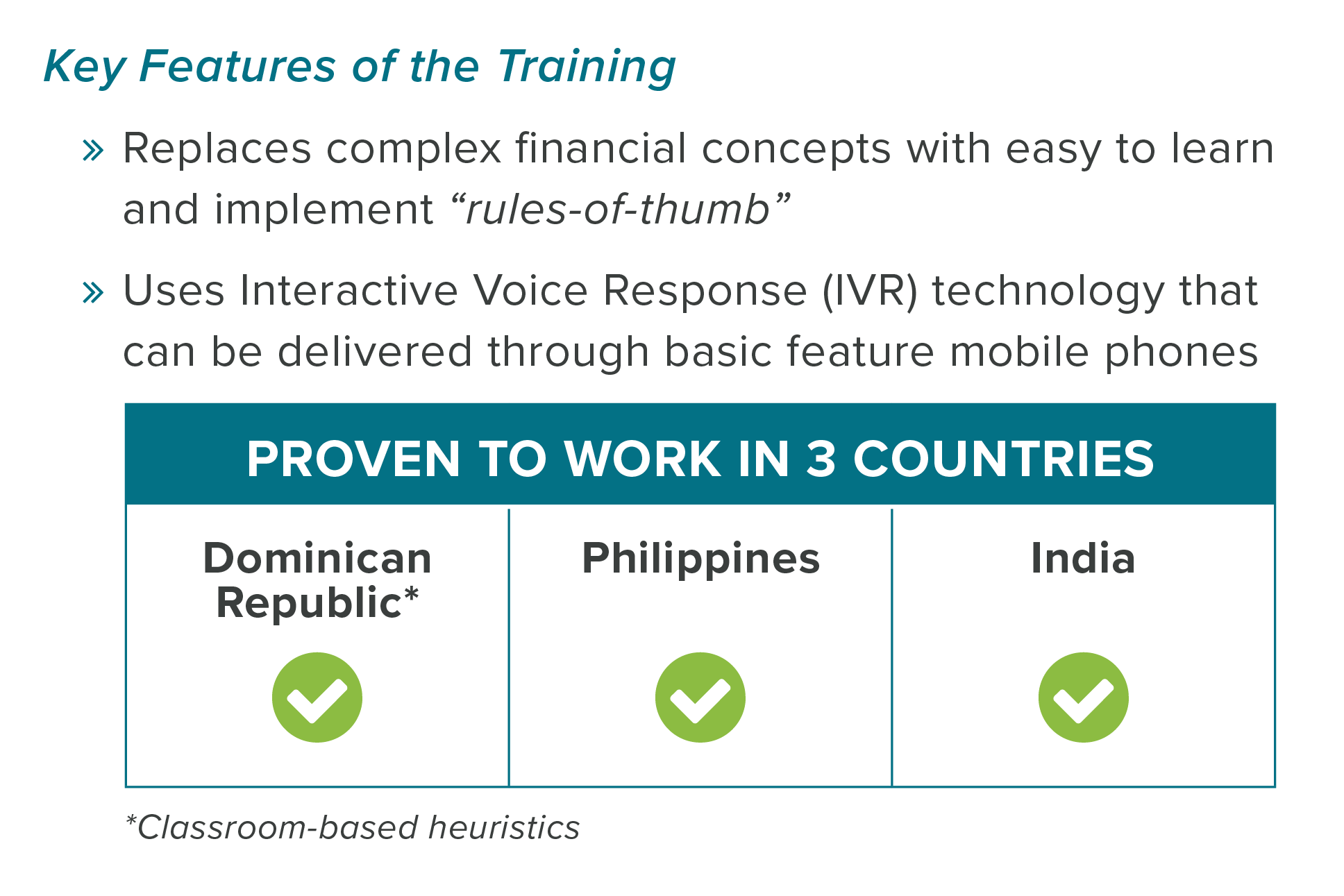 With approximately 400 million micro, small, and medium enterprises around the developing world, successful small businesses have the potential to improve the livelihoods of millions of families. However, many entrepreneurs lack the necessary skills to manage the complex finances of a small enterprise.
Traditional classroom-based financial education courses have attempted to tackle this problem for many years. However, despite their global popularity, these trainings have had almost no impact on actual financial behaviors and are expensive to scale. Why? Behavioral science tells us that increased knowledge does not always translate into action, and the hassles associated with attending an in-person training for an entrepreneur (scheduling, transport, time away from managing the business) tend to suppress turnout.
With this in mind, we developed a scalable mobile-based training program that simplifies financial management lessons into easy-to-adopt rules of thumb and delivers them at the clients' convenience.  The Financial Heuristics Training has been tested and proven effective in three regions around the world.
The results are striking. In India and the Philippines, listening to our Interactive Voice Response (IVR) messages via mobile phone improved key financial management practices by between 2 and 8%among training participants, compared to the group that received no training. Participants were highly engaged with the messages – on average, across both countries, 76% of clients picked up the training calls and listened to at least 70% of the message. Furthermore, delivering the Financial Heuristics via mobile phone was cheaper than through a classroom, particularly in India, where it cost about 67% less than the institution's in-person financial education training.
This evidence-based training is a major step toward better empowering microentrepreneurs to improve their businesses, support their families, and positively impact their communities. For more detail, read the project brief. We're actively seeking new opportunities to take this work even farther by bring it to more institutions and countries.
Interested in learning more about applying the Financial Heuristics Training? Reach out to us at finheuristics@ideas42.org or tweet at @ideas42 to join the conversation.
Randomized controlled trials were conducted in collaboration with Janalakshmi, Institute for Financial Management and Research (IFMR Lead), Negros Women for Tomorrow Foundation (NWTF) and Innovations for Poverty Action (IPA).