HIGHLIGHTS

Women lack the same economic opportunities as men and are paid unfairly for their contributions
Reimagining work environments, contextual features, and social norms can help address the gender pay gap
Our report with TIME'S UP outlines strategies employers can use to create more equitable workplaces for all
The Challenge
Each year, half of the U.S. population loses millions of dollars and is more likely to be impoverished because of an entrenched inequality: the gender pay gap. Women—who now comprise the majority of household breadwinners in many states—lack the same economic opportunities as men and are paid unfairly for their contributions, significantly reducing their earnings over their lifetimes. Despite greater parity in educational attainment and work experience between men and women, progress on closing the pay gap has stalled since the 1990s, and it remains a persistent problem that exacerbates poverty, harms families, and stalls the economy.
According to Census Bureau data from 2018, women of all races are paid 82 cents to the dollar compared with men of all races. Black women are paid 62 cents to the dollar and Latina women are paid 54 cents to the dollar compared to white, non-Hispanic men.
Laws and policies exist to address discriminatory pay practices—including by requiring equal pay for equal work, removing barriers to bringing legal claims, and promoting transparency and reporting on the pay gap. And yet even with those systems in place, discrimination and inequality continue to be both created and perpetuated by human behavior.
Our Approach
In collaboration with TIME'S UP Foundation, we examined the contextual features that can impact everyday decisions and actions in the workplace, such as social norms that can influence and constrain behavior. We then developed strategies rooted in behavioral insights that employers can implement and test in their workplaces to create more equitable work environments for all.
We detailed these barriers and solutions in our report: From Ideal Worker to Ideal Workplace: Using Behavioral Design to Create More Equitable Companies.
Three systems within the workplace stand out as places ripe for change through behavioral design, where outdated "ideal worker norms"— the cultural idea that work demands workers' complete attention, allegiance, and sacrifice—are most likely to create biases that hold workers back and perpetuate the gender pay gap.
Hiring and Recruitment
Scheduling and Work Hour Expectations
Promotions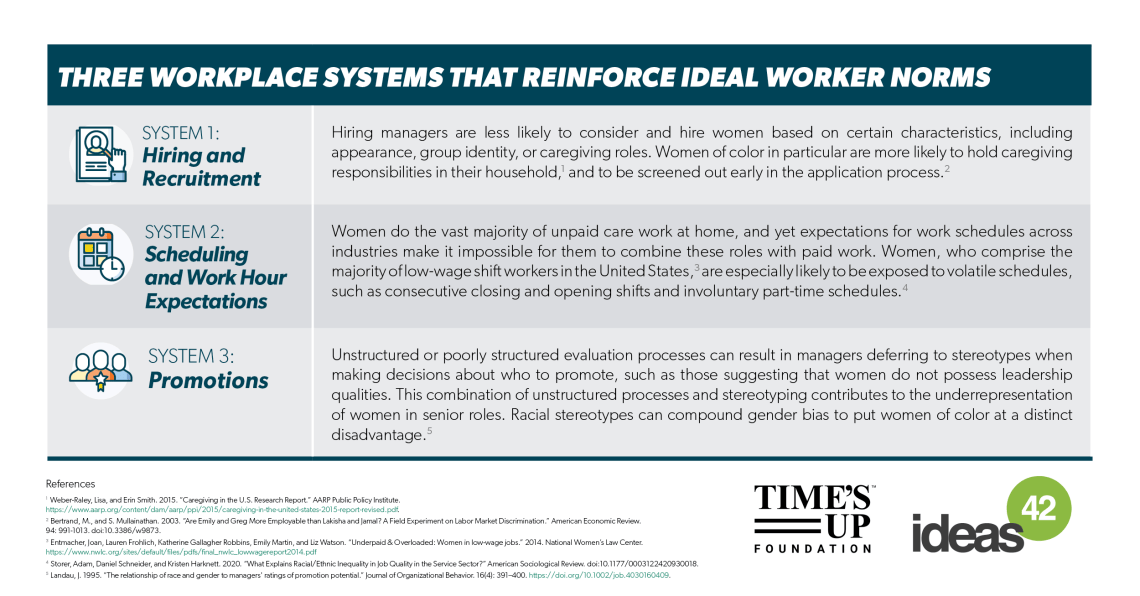 In the report, we outlined actionable steps employers can take to make their workplaces more equitable, including:
Designing hiring practices to be more inclusive of caregivers by

reframing

caregiving experience as an asset rather than a liability;

Implementing gender-neutral paid family and medical leave policies and creating

default processes

for taking leave to avoid overconfidence and to set realistic norms; 

Making scheduling rules

clear

and hours

predictable

to help employees take better advantage of schedule change flexibility;

Offering a pathway to fair promotions by using standardized evaluation criteria to increase the

salience

of a more expansive set of leadership qualities.
Trying and testing these behavioral strategies is an important first step (among many) for employers who have committed to uprooting outdated ideal worker norms and enforcing new ideal workplace standards.
Takeaway
These ideal workplace standards and behavioral strategies are not comprehensive, but rather are a starting point to help employers reimagine their role in creating fair and dignified workplaces for all. While behavioral design can play a vital role in reducing the inequalities that perpetuate the pay gap, it isn't a silver bullet. Eliminating the gender pay gap and creating real and lasting change in workplaces will require many different concurrent tactics—including the passage of federal, state, and workplace policies.
Read the full report of our research with TIME'S UP on creating more equitable workplaces.
Interested in learning more about our work applying behavioral science to workplace equity? Reach out to us at katy@ideas42.org or tweet at @ideas42 to join the conversation.