HIGHLIGHTS

Interventions aimed at adolescents may be especially critical when negative stereotypes and social stigma around contraception and sex inhibit uptake of family planning methods.
A well-received peer referral and clinic welcome program in Uganda significantly increased adolescent uptake by 45%, even during the COVID-19 pandemic.
The Challenge
Unplanned pregnancy can dramatically impact an adolescent's health and economic future. Of the 2.5 million adolescent girls aged 15-19 in Uganda, 26% are sexually active and do not want a child for at least two years. However, only 39% of those girls use modern contraception, leaving six in 10 with an unmet need for family planning (FP) services.
To address the challenge of unmet need for FP, particular attention is needed to ensure that adolescents have meaningful access to youth-friendly counseling and services to support their informed choice. We partnered with MSI Reproductive Choices and Marie Stopes Uganda (MSU) to explore the behavioral dimensions of adolescent girls' access to FP services and to design and rigorously test a novel intervention targeting the behavioral challenges that contribute to unmet need and inhibit adolescent uptake in Uganda.
Our Approach
Through interviews with adolescents, community-based mobilizers, and service providers, we identified behavioral barriers to FP uptake among Ugandan adolescents, which persist even when services are available and affordable. Working with MSI and MSU Marketing and Behavior Change, Evidence, and Clinical teams, we designed the following solutions:
The Refer-a-Friend Program—This program invites girls aged 15-19 who use contraceptives or have received FP counseling to give a "Refer-a-Friend" (RAF) card to a friend who is not currently using contraceptives.
Clinic Environment Materials—We designed materials for the clinic that reinforce a welcoming environment for girls, including posters displaying redeemed RAF cards, posters signed by service providers, and service provider name tags.
Youth-Friendly Services Training—Providers from a subset of clinics received a three-day training on provision of youth-friendly services (YFS), designed by MSI for the Uganda context and facilitated by a qualified member of MSU's Youth Team.
For more on these solutions and our approach, see the program brief.
Results
We assessed the intervention's impact on adolescent FP uptake using a randomized controlled field trial (RCT). In total, 126 clinics were stratified and then randomly assigned to a control group (offering standard services), a Core group (implementing the RAF program and clinic materials), or a Core+ group (implementing the RAF program, clinic materials, and YFS training). Clinics implemented the intervention for six full months in 2020, interrupted mid-way for three months due to COVID-19 precautions.
We observed statistically significant positive impacts of the intervention on both outcomes compared to baseline and relative to control clinics. The monthly number of adolescent clients increased on average by 45% (5.4 more per clinic, on average). The monthly adolescent proportion of clients increased on average by 5.3 percentage points. This suggests that nearly 2,000 adolescents became new FP users as a result of the intervention during the six months of implementation.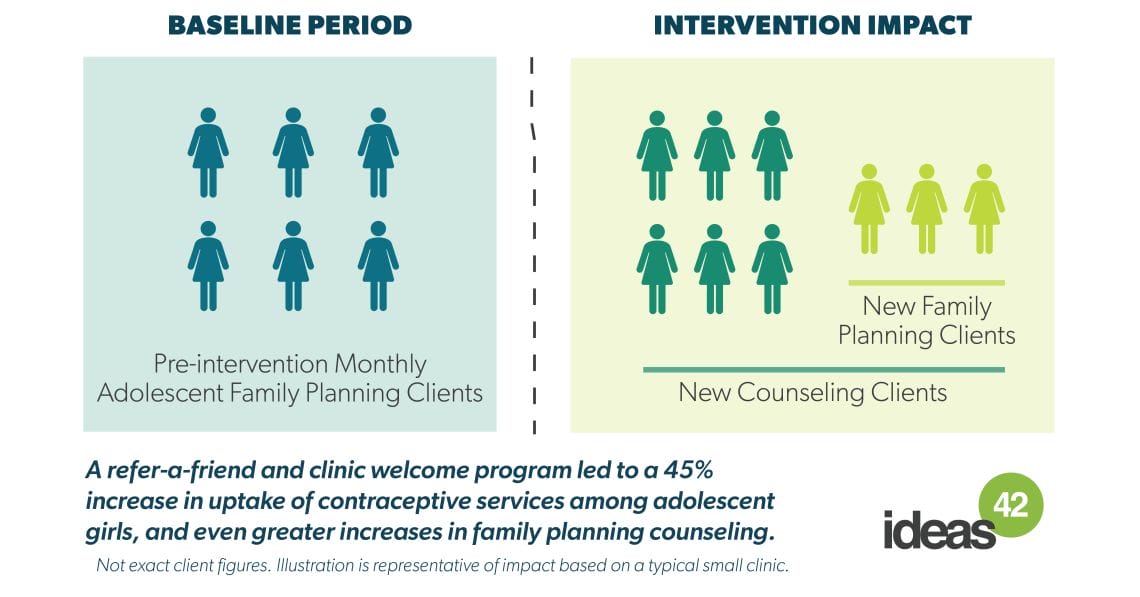 For more on these results, see the program brief or research article.
Takeaway
The results of a robust, multi-faceted evaluation of the peer referral and clinic welcome program show that it was well-received, context-appropriate, and impactful. The program successfully addresses non-cost barriers to FP uptake, and is effective both where services are free and where they are not.
Based on this program's demonstrated success, MSU is expanding it to all social franchise clinics in Uganda. MSI is exploring program adaptation to other country settings. The results of this work underscore that empowering girls as peer advocates and offering a welcoming clinic environment can meaningfully improve access to important health services.
Interested in our work applying behavioral science to global health? Email gh@ideas42.org or tweet at @ideas42 to join the conversation.
Partners