HIGHLIGHTS

Midtown Community Court's Project Reset is a pre-arraignment diversion program that allows first-time and low-level offenders to avoid any prosecution by completing a two-hour group class.

Building trust and modeling transparency and neutrality throughout Project Reset increased participation in the program and helped more people avoid conviction.
The Challenge
In recent years, prosecutors have offered diversion programs that allow people charged with crimes to avoid conviction, and as a result, the harmful future effects a conviction can have on one's life and recidivism. With the goal of creating a more proportionate, humane, and effective criminal court system, the Center for Court Innovation (CCI) and the District Attorney of New York (DANY) partnered to create the Midtown Community Court's Project Reset, a pre-arraignment diversion program. The program allows people charged with lower-level offenses to avoid prosecution by completing a two-hour group class grounded in procedural justice tenants of voice, respect, neutrality, and trust. Participants attend this programming in small groups and are taught a curriculum focused on restorative justice, community membership, self-awareness, and the impact of their offense and arrest on themselves and others. After only a few years, Project Reset has already shown promising results through reduced rates of recidivism and improved case outcomes, and has expanded to serve not just first-time offenders but also those with prior criminal records.
The Manhattan Project Reset Team called on ideas42 to explore how to use behavioral science to reach more potential participants, expand and diversify its curricula, and enhance its post-program referral efforts to better serve the needs of its participants.
Our Approach
To increase uptake, reduce ostriching, and overcome potential participants' limited attention, we created a behaviorally informed outreach letter, envelope, and program voicemail. We also enhanced the program curriculum by adding a facilitation guide to make it easier for facilitators to deliver and to identify common challenges, along with a menu of solutions to employ.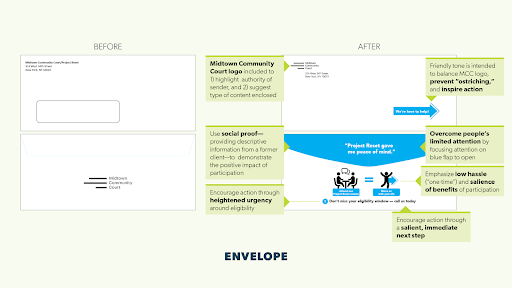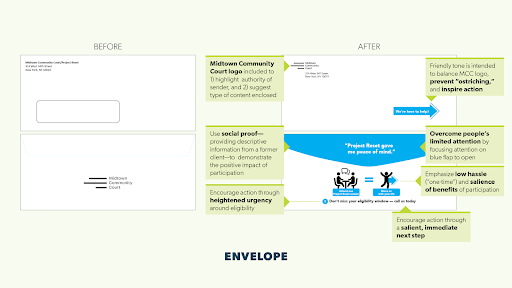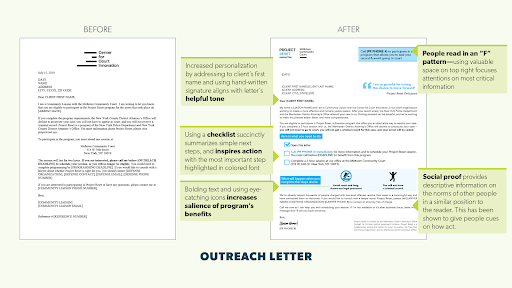 Takeaway
Pre-arraignment diversion programs seeking to offer a more proportional, humane, and tailored resolution to criminal charges must reflect that philosophy and the tenants of procedural justice in every layer of the program, from outreach materials (envelopes, letters, and voicemails) to the curricula. Building trust and modeling transparency and neutrality early on as well as throughout the process is imperative to ultimate success in helping people feel heard and respected while also allowing them to avoid the harms imposed by traditional prosecutions. Interested in learning more about this work? Reach out to us at safetyjustice@ideas42.org.