Building financial health with digital financial services
Today, there's a digital tool for almost every aspect of financial management, from automated savings and investment to expense tracking to person-to-person payments. Compared with traditional brick-and-mortar financial services, digital financial services can offer greater accessibility and convenience at lower prices. Features such as real-time notifications and automated transfers can help people avoid fees and stay on track with critical goals such as paying down debt and saving for the future. The combination of convenience, affordability, and functionality that digital financial services offer can support greater financial health.
Many people aren't using helpful digital financial tools 
The number of people using digital financial services is growing, but take-up is far from universal across different kinds of services and income levels. For example, while over 70% of
banking customers
in the United States use online banking, only 38% use mobile banking apps. In addition, some mobile payments, like bill pay, are popular, but nearly half of respondents to a 2016 Pew
survey
had never heard of using mobile phones to send or receive money to other people. At lower levels of income, the use of mobile phones and smartphones generally decreases, reducing access to digital products. This gap in engagement can lead to missed opportunities for building financial health – especially for low- and middle-income consumers and those whose
needs may not be fully met
by traditional financial products.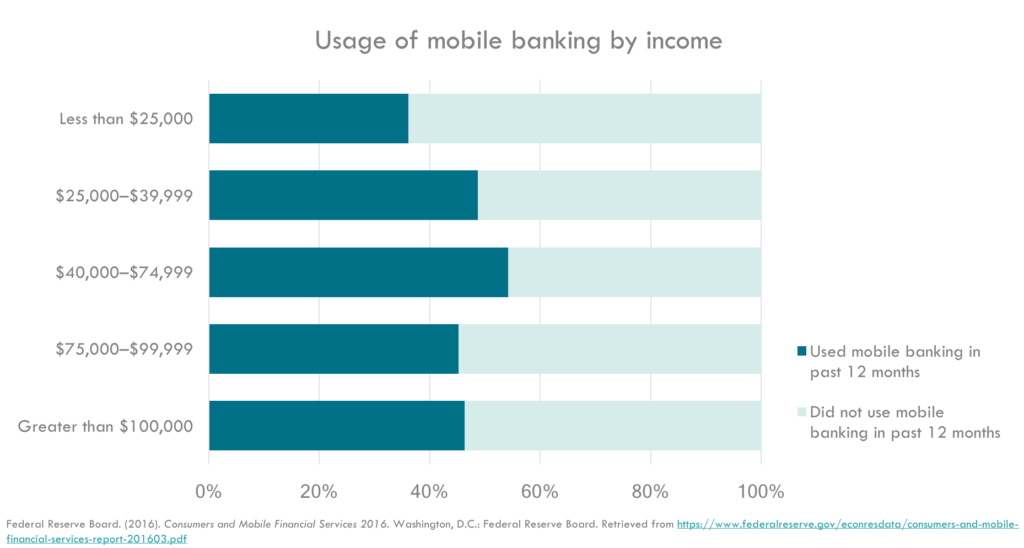 Understanding behavior can illuminate causes of low take-up and use
Regardless of the benefits of digital services, there are many subtle obstacles to transitioning financial lives into the digital world. For instance, it can be difficult to keep digital financial tools top-of-mind because there aren't many physical cues for using them. People may lack confidence in a completely virtual financial transaction with no tangible paper trail, and new providers may struggle to build trust without that human interaction. The seemingly unlimited set of complex options in an app store can be intimidating to navigate with little or no support. Finally, the hassle of setting up financial profiles, managing user names and passwords, and linking external accounts can derail onboarding and cause people to give up. But understanding these behavioral obstacles and clients' needs can pave the way toward designing solutions that overcome them.
A behavioral perspective
This playbook is a guide for financial service providers to use behavioral design to increase engagement with digital tools. All of the strategies are rooted in behavioral science—the study of how people act and make decisions in the real world. It outlines design principles for common barriers to adoption that take into account how people process information, make decisions, and take action. By incorporating this behavioral perspective, providers of digital financial services can build (or improve) products and services that reach more consumers and help them achieve financial health.